Christmas
Santa & Christmas tree showpiece / Snowman / Snow Flakes / Christmas trees / Illuminations / Fortune candy
Santa and Deers: Santa 5" h x 9" w , Deers 4" h x 5" w Christmas Tree: 14" h x 5" diameter
With winter coming just around the corner, we can't wait to play in the snow making our favorite snowmen! Here they are made out of crystallized sugar...
Snowman: size 2.5" d x 3.5" h
Each snowman shows a different personality. One looks friendly, and the other one appers a little bit shy... and one has an mischievous grin. We put a scarf for the snowman in the color of your choice. He smiles at you throughout the Holiday Season! Choose the color for the scarf, Red, Yellow, Blue, Green, & Purple. Snowman: $14.95 each inquiry/order
Snow Flake: size 4" w x 3.5" h
Crystallized sugar is an excellent way to make an icy appearance & a feeling of a snow flake. Colors of the snow flakes shown above are Clear and Light blue, but you may choose any color that can be possible. Snow Flake: Box only $5.95 each Giftwrap $6.95 each inquiry/order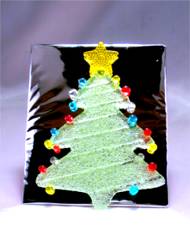 Flat Christmas Tree: size 4" w x 3.5" h
Glass like appearances of the flat Christmas Tree has colorful ornaments attached around the edge. They come in several designs, and have different diagonal stripes in angles/numbers. They are great for gift and cake/dessert decoration. Flat Christmas tree: Box only $5.95 each Giftwrap $6.95 each inquiry/order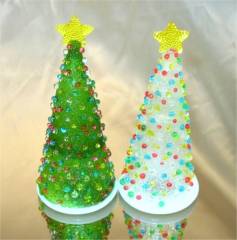 3D Christmas tree: size 5" h x 2.5" d
These 3 dimentional trees are the most festive and popular item when Christmas comes around. They are great for gift and used for table top accents or cake decoration, too. There are countless colorful ornments - candy - all around the surface of the tree. A yellow shiny star is on top. 3D tree comes in green or clear (frost) as you see left photo. Christmas tree: $14.95 each inquiry/order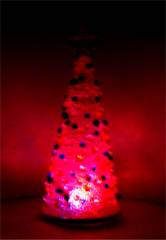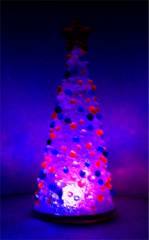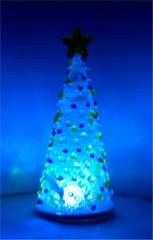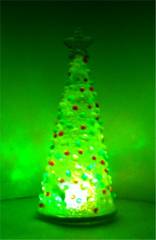 Christmas tree with illumination:
We also offer the "Illuminated Christmas Tree". A tiny light can be placed inside the tree and illuminate it from inside. You can enjoy multiple colors changing smoothly in endless cycles. (Up to several hours per battery)
Self color changing light bulb with battery: $1.95 each inquiry/order
---- Garnitures ----
Sugar Holly leaf, size 2" w x 4" h & Sample presentation on dessert plate
Simple yet so delicate & elegant, a sugar Holly leaf garniture is the easiest & finest way to enhance your dessert plate in just seconds. Each Holly leaf is carefully hand made and two red sugar berries are attached at the bottom of the leaf. It will add extra height to the plate with dramatic seasonal presentation instantly without any extra work. All you have to do is place sugar leaf right before serving your dessert plate.
Color choices: Green leaf for traditonal holiday red/green color combination. "Clear" leaf for icy/frosty touch and "Chamgapne" (light amber) color for festive appearance on your sweet creations. Holly leaf: $1.95 each inquiry/order

Ribbons: from top, 5", 7" and 8" long
Ribbons are a wonderful way to decorate dessert plates & cakes. Each ribbon is hand twisted. They have Peppermint flavor, your choice of Red on white or Green on white. 5" and 7" has about 1/2 inch in diameter, 8" has smaller in diameter as you see in photo above.
Christmas twist ribbons: Red or green, 5" $1.95 ea 7" $2.25 ea 8" $2.45 ea inquiry/order
Caution: Fragile. Handle with extra care. Do not refrigerate/freeze. Keep in a cool, dry place at all time while storing.
---- Christmas Lollipop ----
x12 varieties of Christmas designs,
They are wonderful way to celebrate holiday season and great idea for gifts! We selected the most recognized designs of Christmas, from left, Deer, Candy Cane, Santa, Gift box, Stockings, Christmas tree, Bells, Candles, Gingerbread man, Star, Wreath, and Snowman. They come in Christmas Red or Green background. Christmas Lollipop x12 assortment pack $34.95 inquiry/order
----Unique Christmas gifts ----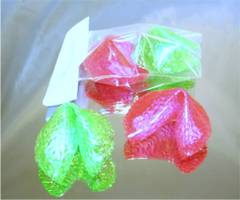 Christmas Fortune Candy: Red and green in a bag.

Have you ever seen something unique like this before? Green and Red colored Fortune Candy in a same bag. What a neat idea! Label can be read "Season's Greetings"or "Merry Christmas" in anyway you like. Christmas fortune candy: Red & Green in a bag $3.45 each inquiry/order

SUGARWORKS, LLC Copyright � 2006, 2007, 2008, 2009. All rights reserved. Mon-Fri 9:00 am -5:00 pm

----------------------------------------------------