Fortune Cookie Candy
They are just like fortune cookies in size & shape but are made of sugar. They come in stunning beautiful colors. Notice how the Fortune Candy appear as if they are made of crystal glass, at first glance. The Fortune Candy shows great clarity in sparkling light.
Imagine the excitement of your friends, guests & loved ones at your special events as they expeience the fun you share with them through intuitive messages appeared on fortune in our amazing looking fortune candies.
There are 8 colors of fortune candies. Red, Yellow, Blue, Green, Gold (orange-amber), Purple, Pink and Clear. We can put customized Messages or Wedding Announcements for free.
---- In a bag with a custom label ----
For a fun treat to give away or party favors, we can put a custom label on each individual package as shown in the photos above. Labels can be wedding announcements or short messages, such as Happy Birthday, Happy Anniversary, Congratulation, Thank you, Good Luck! etc.
Fortune candy: Bag with custom label $1.95 each inquiry/order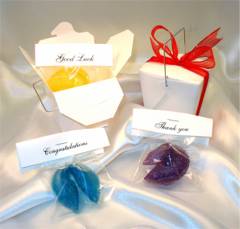 Sample presentation of Fortune candy.
Gift Idea - As you see the photo on left, If you would like to have an extra touch to present your Fortune candy, place a fortune candy in an individual takeout-box, then you can arrange your own favorite ribbons around the box for attractive packaging. It is a sure way to surprise and impess your guests!
----Unique Christmas gifts ----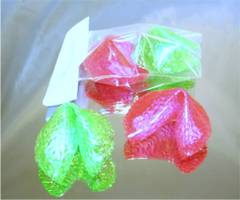 Christmas Fortune Candy
Green and Red colored Fortune Candy in the same bag. What a neat idea! These Fortune Cookie Candies are perfect for Christmas gifts. We can customize the label text to say "Season's Greetings", "Merry Christmas", etc.
Christmas fortune candy: Red & Green in a bag $3.45 each inquiry/order
----------------------------------------------------
SUGARWORKS, LLC Copyright � 2006, 2007, 2008, 2009 All rights reserved. Mon-Fri 9:00 am -5:00 pm